Want to read a preview of Casalvento? Subscribe below.
Romance and family secrets intertwine in Tuscany.
Erika Germoglio is a self-made woman who has it all–a successful career and a well-connected fiancé–then suddenly has even more. An Italian grandfather she has never met wills to her Casalvento, a house and a vineyard, and Livernano, a medieval village turned bed-and-breakfast, both in the Chianti region of Tuscany.
When Erika travels to Italy to settle the affairs of her inheritance, she meets Paolo, Casalvento's intelligent, compassionate, and strikingly handsome estate manager and wine maker. And she learns the inheritance comes with a catch–to keep or sell Casalvento and Livernano, she must live there and learn the business of the two estates for five months.
Should she uproot her New York life and embrace all Italy has to offer? And if she chooses Italy, which man will be by her side? Erika struggles with that question while fulfilling the stipulations of the will and trying to make sense of a series of letters left for her by her late grandfather, Craig's unpredictable attitude when she calls home, and her own feelings whenever she sees Paolo.
Set in the real Casalvento (House of the Wind) of Radda and Livernano in Chianti Siena, Italy, debut author Gudrun Cuillo's Casalvento will captivate your heart and make you wonder if not only in vino veritas, but also possibly in vino amore e felicità.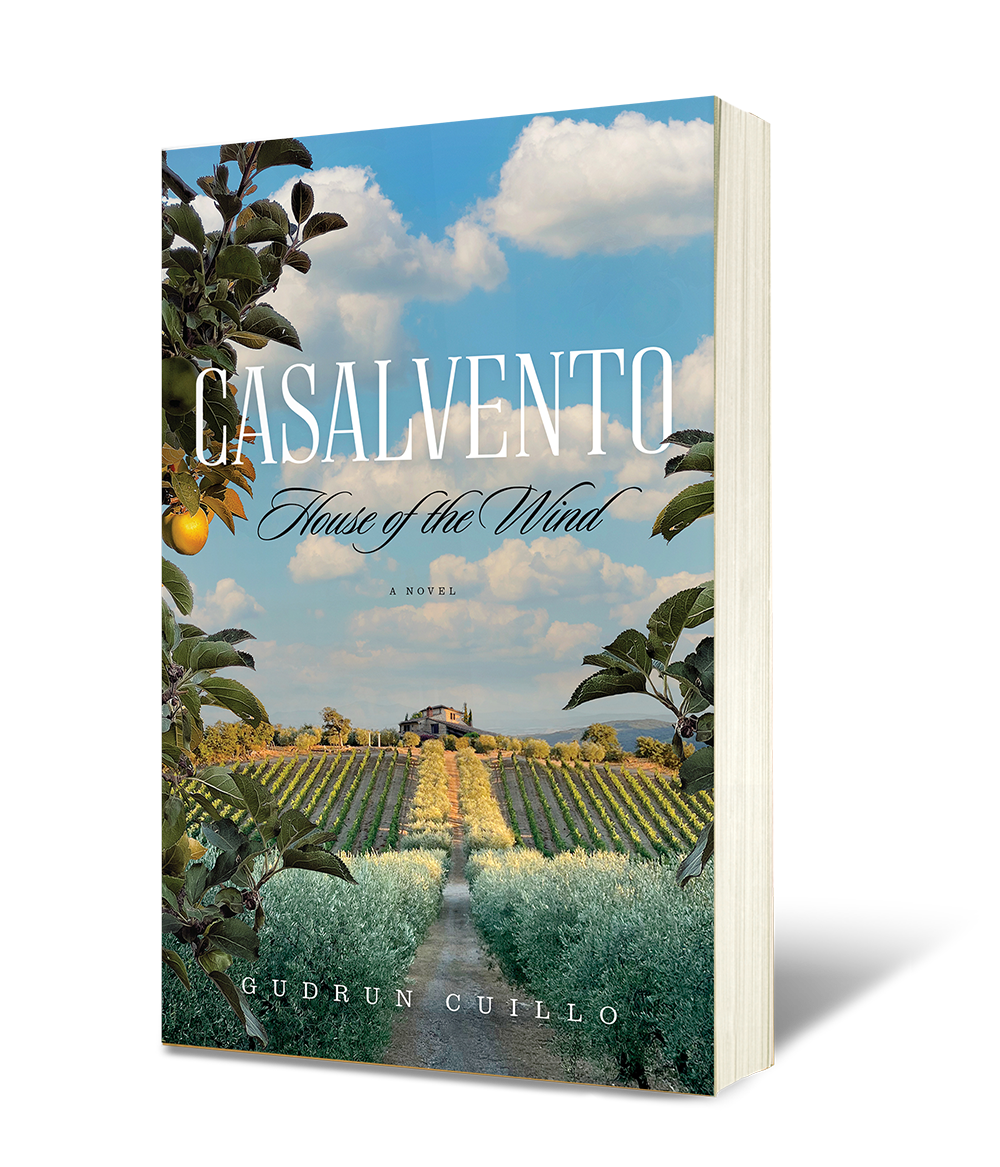 Amazon Best Seller in:
Italian Literature
General Italy Travel Guides
Single Women Fiction
Historical Italian Fiction
Available Everywhere Books are Sold
June 6, 2023
Casalvento Winery
Tuscany, Italy
The inspiration for Casalvento is the breathtaking Livernano estate and Casalvento winery, situated in the heart of the Chianti Classico district. This magical village of ancient origins was neglected for too long, but rediscovered in 2000 and rehabilitated with all the style and elegance of Tuscan tradition. Gudrun and her husband Robert Cuillo brought the estate back to life through meticulous restoration that returned the place to its original splendor.
"*" indicates required fields